Electric skateboards are getting more and more popular, people love it. More and more brands and manufacturers are entering this fields, giving customers so many choices to choose from. These electric skateboards may have different price size shape or drive system etc, this makes it hard to decide which is the right one to buy, especially for those who are new to electric skateboard. That's why we write this blog post, hope this blog post could give you some useful information.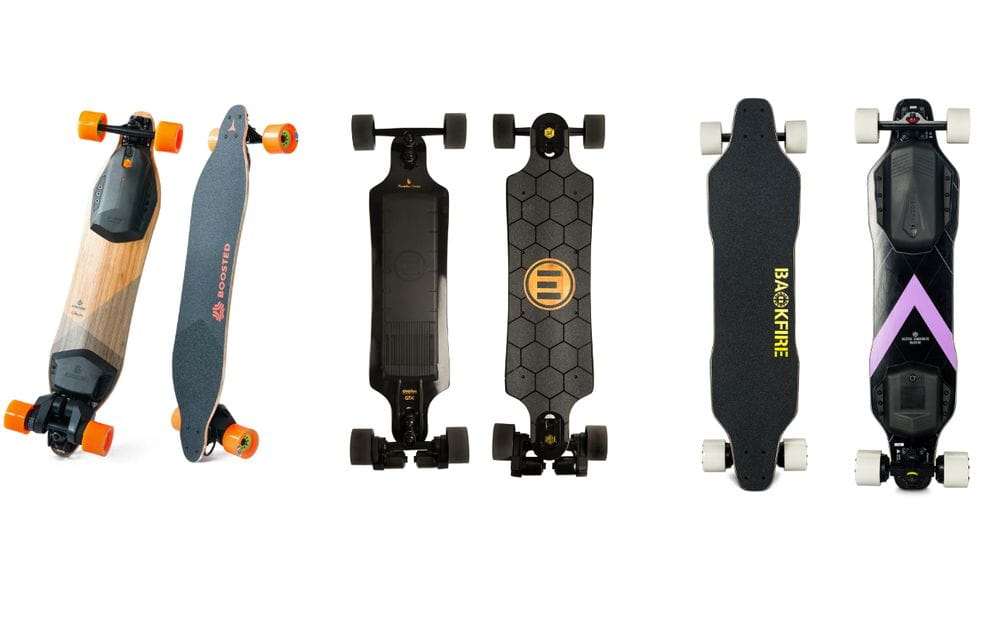 Think Before You Buy
Actually choosing electric skateboard is like choosing a car, you need to consider what is the most important or wanted feature for you. If you want to ride on the highway with high speed and powerful acceleration, you may something with a low Center of Gravity and a powerful engine, something like a sports car, but if you want to ride off-road, you may need something with bigger wheels and four-wheel drive system, and if you just want something you can drive to your office or supermarket, something like an SUV may be your best choice. So, it really depends on what you need or what you want!
Based on our survey with thousands of customers, we listed three typical scenarios of buying electric skateboards:
For children as a gift, or for someone who never tried electric skateboards before, absolute beginners
For skateboard riders, using electric skateboard for commute, everyday use, moderate experienced skateboard rider
For enthusiastic skateboard riders, skateboard DIY players, with high demand for speed acceleration and carving experience
In this blog post, we are going to cover only the former two, after all, for enthusiastic skateboard riders, they already understand electric skateboard quite well.
For Kids or Absolute Beginners
An electric skateboard for kids or beginners should be something with: a price tag lower than $500, top speed around 15mph or 25km/h, maximum range around 5miles or 8km, length around 30inch or 76cm, weight around 8lbs or 3.6kg. We usually call such kind of cheap light-weight entry-level electric skateboards "electric fishboard" or "electric pennyboard", they are great for kids and beginners. With a relatively low price tag, you don't have to spend a lot to enjoy the fun of electric skateboards. Kids or beginners can safely ride, it is also great to ride it when you are walking your dog. Because it is light and has a small form-factor, people also like to use it as  a short-range commute tool, like riding from the metro or bus station to your house or office. Because such electric fishboard or pennyboard doesn't have very demanding specifications, they are quite stable and reliable. By choosing some well-known brands like Acton Blink, you will have a decent board and don't need to worry about the quality of the board. Boosted also has a Mini series which falls into this category, but it is quite expensive.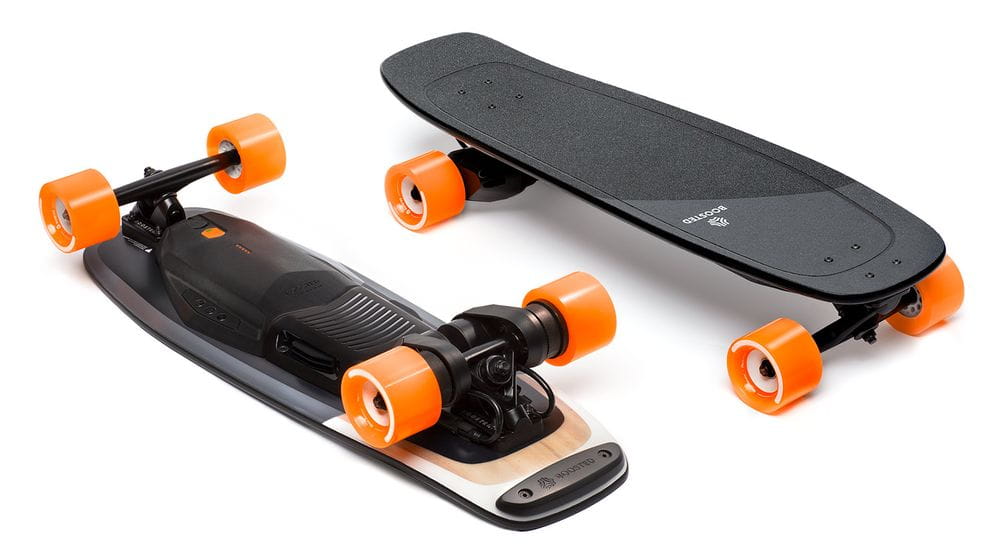 Boosted mini series is a full features electric skateboard, compared to ordinary skateboards, it just has smaller form-factor and a less demanding spec. It is one of the best choice if you need a short range riding, if you are willing to pay the $799 price.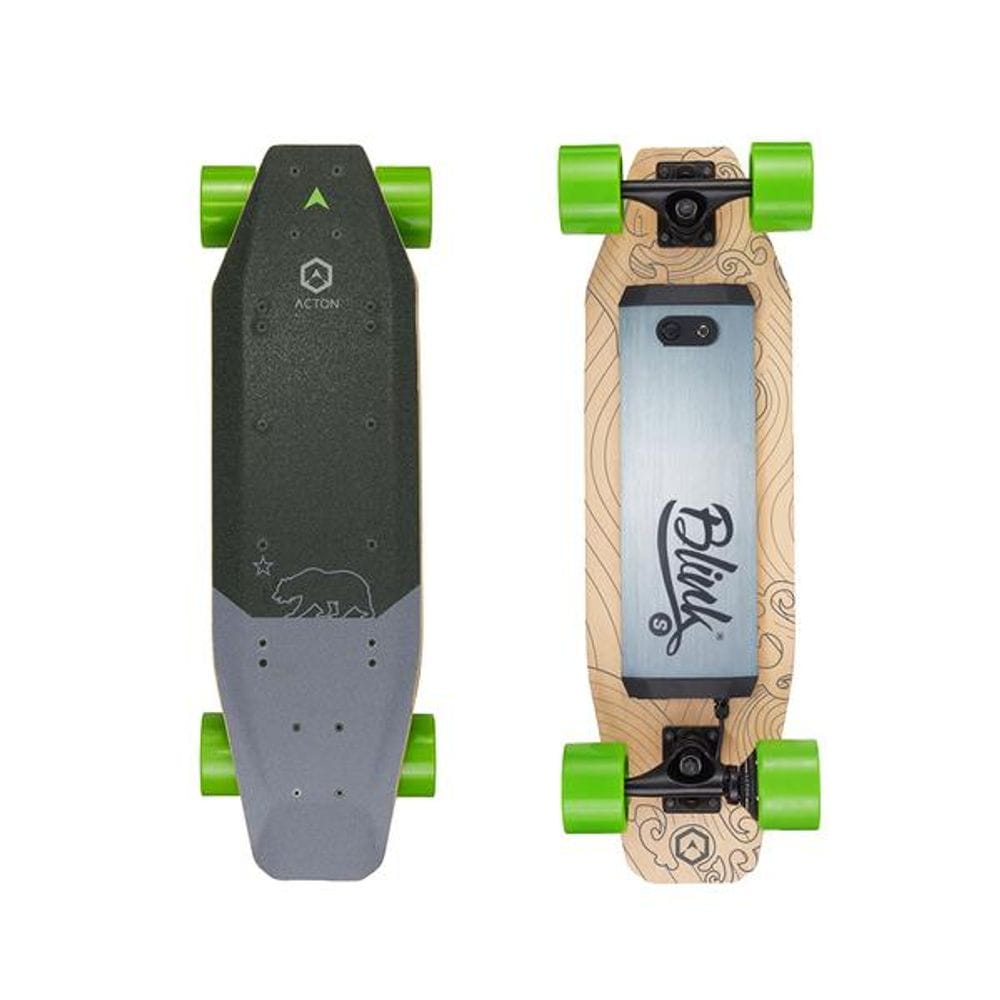 Acton Blink is a special one, compared to many other electric skateboard listed in this post. Because it just has a single motor drive on its left rear wheel. So, you can't ride very fast with this single motor drive. Its built-in led light are also worthwhile mentioning. And its $449 price tag, not really so cheap actually, but it gives you a choice if you want such a small board and don't want to spend too much.
For Electric Skateboard Riders, Adults
This would be what most people are looking for, and this is also what most products in the market are targeting, there are just too many options out there, pricing from $300 to $900 or even more, with or without brand. So if you are not familiar with electric skateboards yet, please read the following thoroughly. First we'd like to list some common myth that occurs to many people when they are choosing an electric skateboard, then we will recommend some great boards in the market.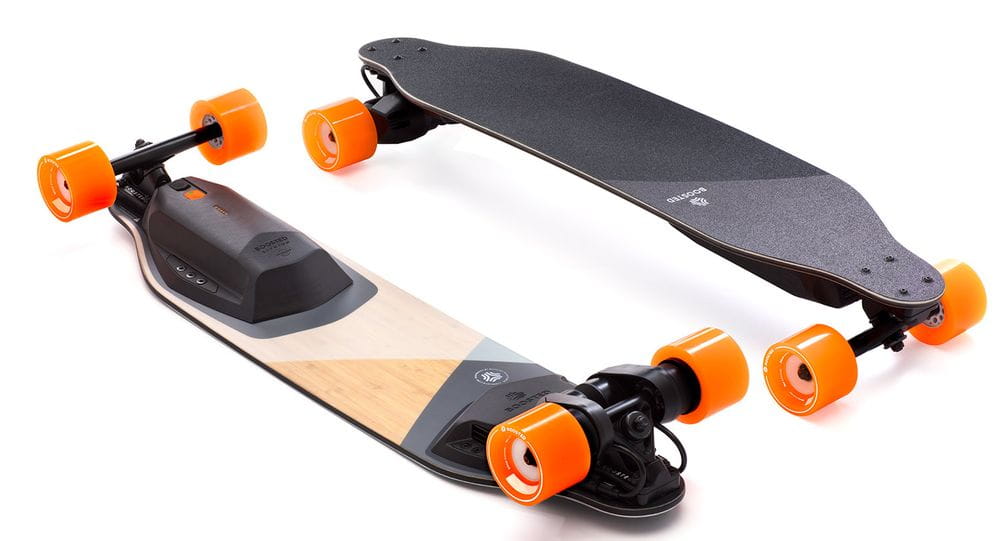 With no doubt, Boosted is still the most popular electric skateboard brand out there in the market. This Boosted Plus is their latest electric longboard product in 2018, it has been improved a lot, compared to the old boosted models. It still uses external belt motor drive system. But it has a $1399 price tag, which is not so great.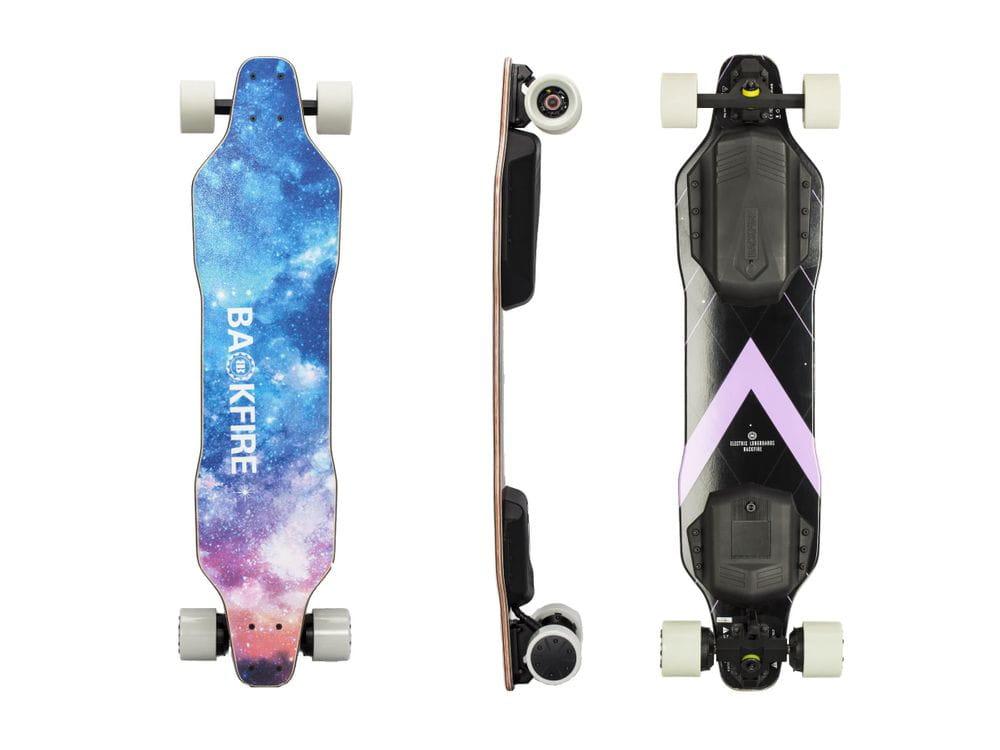 Backfire G2s is Backfire's newest offer in 2018, it is an upgraded version of their original G2, which is quite popular, but not perfect of course. That's why we have G2s, it has Caliber II trucks, new ESC module, free extra 96mm wheels, larger battery which gives you longer riding range. It just got so much better than its predecessor G2. The overall riding experience is improved a lot. Its price is $549, $50 more than G2, consider all these great improvements, it is still a very reasonable price!
All Terrain Electric Skateboards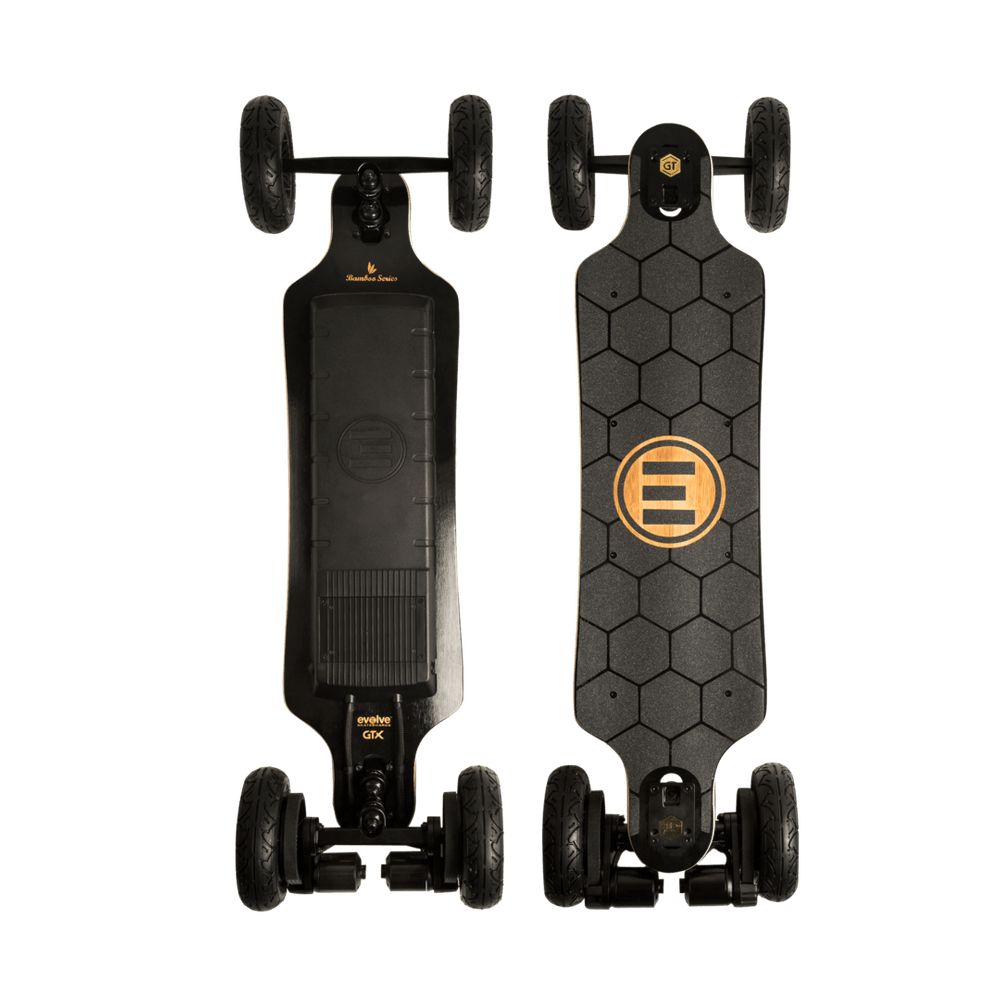 Evolve is probably the most popular all-terrain electric skateboard brand in the market so far. This Bamboo GTX series is their 2 in 1 electric skateboard. You could use all-terrain wheels or ordinary skateboard PU wheels on this board, that's what 2 in 1 means, however considering its complicated external belt motor drive system, changing wheels may takes quite long, this makes their 2 in 1 design much less appealing and useful. The $1799 price tag is also really expensive, but still, it is a decent board.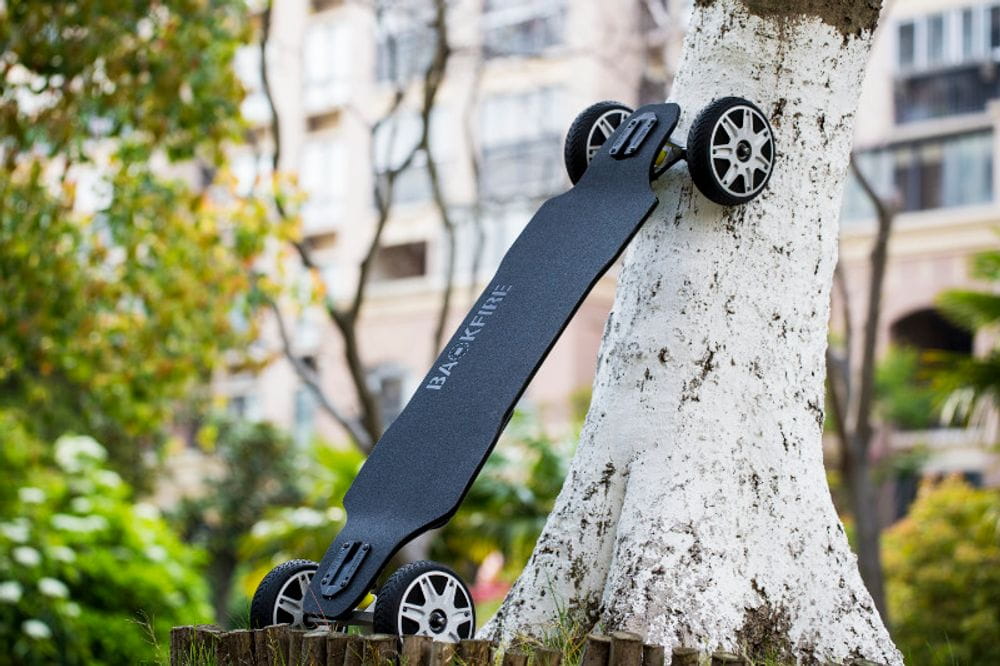 Ranger X1 is Backfire's First All-Terrain electric skateboard, it is first officially announced on 30th June, with a campaign on Indiegogo. It has quite amazing specs, the design also looks great, unlike Evolve Bamboo GTX series, Ranger X1 use hub motors, this makes it looks much cleaner. $999 is also a quite reasonable price, you really should consider this if you want an all-terrain electric skateboard in 2018!
Enjoy riding!